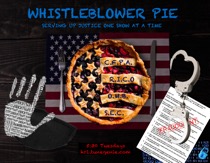 To be blunt, there has been too much "ESCHEATING" through hypothecated usurpation of intellectual property rights. The problem at hand stems from communication conflicts through rebuttable presumptions "IN" law as a result of deregulations allowing for a "COLORABLE" approach to self-governance. "We" MATTER!

in re: Illegal foreclosures…

No More Escheating!

The Problem: ATTOM Data Solutions says at least 200,000 likely defaults will occur once foreclosure moratoriums surpassing the GREAT MORTGAGE CRASH of 2008. Advocates from across the NATION are further exposing the MORTGAGE ELECTRONIC REGISTRATION SYSTEM (MERS) as the trademark process that has bypassed congressional intent to show that no actual mortgage were created within this system.

Why it matters: With a general public awakening to the fact that HSBC was the collateral agent for the DOMINION VOTING SYSTEM and they were nothing more than the pledged collateral against the MERS SYSTEM, they soon will break through the legal barriers set forth to deny and/or delay due process of law.

Just as Wells Fargo holds a MERS foreclosure manual this TRUST will hold an accountability process under ASC 470-60 from the "DEBTORS" perspective by the re-assignment through the US Treasury Department for an immediate forgiveness write off against the blighted collateralized non-perfected securities as outlined in FASB ASC Topic 740 through the CENTRAL BANKS REMIC TRUSTEE for depreciation and capitalization purposes.

Specific Problem:
Damage incurred and continues to incur under UCC§9-604(d) removal and/or attempted removal of the individual adhered as collateral for performance trade. The individual's performance was involuntarily converted into income upon inception of the DEED OF TRUST using GAAP accounting methods upon the MERS BORROWER'S irrevocable transfer into TRUST. This in turn treated the individual as intellectual property Chattel under UCC §9-102(A)(41).

For Clarity, under COLOR OF LAW there was the presumption of a PERSON as defined under UCC§1-201(4) under the presumption of a Consumer as defined under UCC§1-201(11). This is a breach of UCC§ 1-201(17) violating UCC§1-201(18) through a "banking organization" UCC§1-201(25) meaning a PERSON other than the individual who's signature was used for usurpation. The MERS TRADEMARK by default became the UCC§ 1-201(35) "Security interest," which voided the UCC-1 filing made against the individual's NOM DE JURE under UCC§1-201(19- 20) as it was neither genuine nor made in good faith. These other than ordinary activities fall under 18 USC §1961.

MATTERS OF FACT: As it is not "theory" that MERS MEMBER BANKS, FREDDIE MAC, and SERVICER'S have been issuing 1099-A, therefor USC 26 61 (a) and 108/ 1122 AB (1) 1122 AB 10B 5 abandonment claims are the specific matters of law involved.

In an effort to compartmentalize the financial cause verses the economic effect, one must come to terms with what has transpired. At this moment of history, there needs to be a reversed engineered approach if we are to achieve true economic stability. This can only be obtained through a non-violent communication approach which not only addresses the need to cure, but also can bring forth healing and reconciliation without compromise for accountability purposes as defined under 26 CFR Parallel Authorities 7025 Part 197 "revenue laws" which are defined as commercial crimes for accountability purposes.

Methods:
For IRS purposes the "trustee" will elect to treat the trust fund, other than the right to receive prepayment penalty amounts with respect to the mortgage loans, as comprising multiple REMICs in a tiered REMIC structure for federal income tax purposes. Each of the certificates offered by this prospectus supplement Certificate represented ownership of "regular interests" in a REMIC and certain Certificate would be designated as the sole class of "residual interest" in each REMIC. REMICs are federally tax-exempt entities and are classified as Special Purpose Vehicles (SPV). SPV are not designed to hold both the note and the deed as this would violate their tax-exempt status under the IRS codes.

By creating a financial storm break that allows for full Treasury audit calling into question tax exempt status of the REMICS currently being used to foreclose by illegitimate TRUSTEE's though subrogated hypothecation, Income from discharge of indebtedness could then be applied in a forced restructure with the understanding that the MERS Registrations, under 27 USC §7011 Parts19, 22, 25, 70, 194, 270, 285, 290 and 26 CFR Parallel Authorities 7025 Part 197 "because all "revenue laws", are defined as commercial crimes.

Sanctions through the courts can be awarded against the full value of the REMIC for breach of its tax-exempt status while a discounted portion can be used to quiet the usurped TITLE. Meaning the REMIC TRUSTEE could utilize the balance of the award as an anteceded debt write. The loss adjustment of the base utilized against the future derivative under ASC 310, ASC 320 and ASC 380 can be utilized to reconvert the bad debt back into the original "asset". This can be accomplished under ASC 470-60 from the MERS "DEBTORS" perspective.

In the current environment, we are in, "IN ORDER" to operate in law, one must act under contract. All courts, when you break down their IRS filings, are nothing more that privately owned trading companies owned by the US Attorney's executive offices out of DC. They have a DUNS number, they have a pit code, sip code, NAICS number (North America Identification Security Classification) which is use to report upon Dun & Bradstreet. Plus they have to be registered with the CCR (Contractors Central registration under the DOD) for which 10b5 enjoinder reports on behalf of the new treasury were created. Once this process has shifted to block chain for monetization purposes THIS process can be utilized through the non-disputed GenPact MERS UCC filings as follows and in accordance to these codified laws:

2020-276-0666-5 NOTICE OF LIABILITY IN AFFIDAVIT AND PROOF OF CLAIM
2020-281-1770-2 NOTICE OF DEFAULT by acquiesce to aforementioned UCC filing
2020-286-2905-2 COUNTER ATTESTATION REPORTS ON ASSESSMENT OF COMPLIANCE. THIS IS ACTUAL AND CONSTRUCTIVE NOTICE OF TENDER FOR SET OFF.
2021-03805301-3 ACTUAL AND CONSTRUCTIVE NOTICE OF NON-RESPONSE, NOTICE OF FAULT AND NOTICE OF FOREIGN JUDGEMENT INTERCEDERS SCIRE FACIAS OF PRAECIPE EXECUTION

Congressional passages enabling the immediate implementation of this new "System":
In re: TRADEMARK RECORDATION 1998 made into the US Patent Office [which expires in the year 3099].

In 1999 Sen. Joe Biden voted with 89 others to repeal the Glass-Steagall's regulations including House Speaker Nancy Pelosi, Majority Leader Steny H. Hoyer, House Minority Leader John A. Boehner and Minority Whip Roy Blunt. By the removal of certain provisions within Glass-Steagall's, it allowed NA banks such as UBS and Deutschebank Securities to not only swap around and underwrite their own securities, but allowed unlimited access by the NA Member banks under a MERS MIN which is a member identification number, that you can usually see upon the front page of a deed of trust.

CONGRESSIONAL ACTS UNDER PRESIDENTIAL ADMINISTRATIONS.
(a) The Copyright Act of 1790, March 9 (b) 1933 House Joint Resolution No. 192-10 (c) 1935 The SOCIAL SECURITY ADMINISTRATION codified U. S. C. §901stemming from the CESTUI QUE VIA Act of 1666 (d) Executive Order 10422 (e) Treasury Delegation Order No. 91 (f) Public Law 94-564, Legislative History, pg.5967, 1998 (g) The State Street Bank&Trust Co.v.Signature Financial Group, Inc. (h) 2001 revision to UCC-9 allowed secured transactions could be collateralized, for Re-hypothecated selling and reselling of the Patent Copyright Trademark [not in the ordinary course of business effectively turning court judges into administrators of Royalties.

The above UCC filings were made in accordance to the NATIONAL ARCHIVES FEDERAL REGISTER documents which are pertaining to the United States Patent and Trademark Office, work through OMB 0651-0027 citing §1057. Certificates of registration (a) upon the principal register shall be issued in the name of the United States of America. This effectively turned the individual signature into a congressional co-signer used to "Borrow" Credit against the UNITED STATES OF AMERICA, turning every MERS IN UNIFORM instruments into toxic constitutional torts used for financial warfare purposes as a BILL OF LADING.

These congressional passages revolved around a bonus depreciation provision that President George W. Bush signed into law in 2002 allowed taxpayers to immediately deduct 30% of the cost of new assets acquired during the provision's applicability; the remaining 70% would be deducted under otherwise applicable MACRS rules. Which are modified accelerated cost recovery system for depreciation purposes.

Both the Economic Stimulus Act of 2008, signed by President Bush, and the American Recovery and Reinvestment Act of 2009, signed by President Obama, instituted a 50% bonus depreciation allowance. Later, the Tax Relief, Unemployment Compensation Reauthorization and Job Creation Act of 2010 further increased the allowance to 100% — such that the asset would be fully depreciated in the year of acquisition.

This meant that that the lending industry via presidential and congressional intent was allowed to buy a worthless sub prime loans and get a 100 percent tax credit by cancelling it, Day one under 26 US Code Section 61 (a) (1) Cancellation of debt and conversion to income paid on a tax payer form 1099. These are abusive tax matter partnership interests tracking back to Kirby vs us Lumber for which in the economic environment we are currently in we can apply the same principles used in the Bowers v. Kerbaugh-Empire Co. to bring forth a reconditionogenic approach as none of these instruments are enforceable by any Nation. See WhistleblowerPie.com attestation and MERS whistleblower testimonies.

The details of the REMEDY SET-OFF process is with the Copyright presentations. Those who held alleged interest in these DIRTY DEEDS, please be aware this is also being presented to the Military for Treason for inditement recommendations. "We" are not YOUR property and neither are our children. We did not acquiesce to consent to be "Governed" by the Mental.